Essential Pistol with Dave Spaulding
Saturday, August 10, 2019 • 10:00 AM - 6:00 PM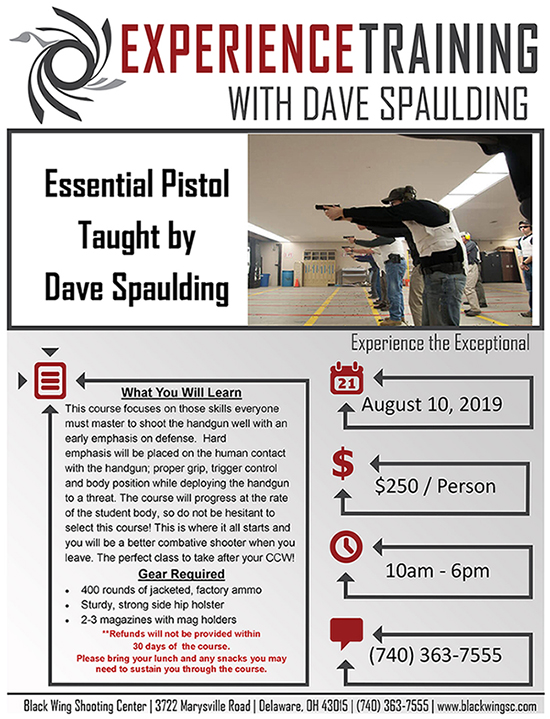 PLEASE NOTE THAT NO REFUNDS OR CREDITS ARE POSSIBLE WITHIN 30 DAYS  OF THE  COURSE
ABOUT DAVE SPAULDING..
Dave Spaulding was awarded the 2010 Law Officer Trainer of the Year award at the "The International Law Enforcement Education and Training Association (ILEETA). He has 36 years of Law Enforcement & Federal Security experience. Dave was a founding member of his Agency's SWAT Team, and he spent 12 years as its training officer.
GRADUATE OF MULTIPLE SHOOTING SCHOOLS
Dave is a graduate of most of the major shooting schools including the highly-acclaimed CRUCIBLE, Thunder Ranch, Gunsite, Mid-South Institute of Self-Defense Shooting, Smith & Wesson Academy, SIG-Arms Academy, Chapman Academy, Heckler and Koch International Training Division, Tactical Defense Institute, CQB Services of Liverpool, England, Berretta Training Academy, FBI SWAT School, Lethal Force Institute, Defense Training International, Gryphon Group, Direct Action Resource Center, Blackwater, and more
 LEADING AUTHORITY ON FIREARMS TRAINING
By training instructors from across the globe, he is recognized and respected worldwide as a leading authority in realistic combat handgun training.Dave has taught at such prestigious international training conferences such as the American Society of Law Enforcement Trainers (ASLET), The International Association of Law Enforcement Firearms Instructors (IALEFI) and the International Law Enforcement Education , Training Association (ILEETA), The Ohio Tactical Officers (OTOA) and the Michigan Tactical Officers Association(MTOA) . Dave was also the host of the 2004 IALEFI International Training Conference which drew students from 17 countries.  
AUTHOR, WRITER, AND CONSULTANT
The author of two highly acclaimed books, HANDGUN COMBATIVES, and DEFENSIVE LIVING; and over 1,200 articles for COMBAT HANDGUNS, GUNS AND WEAPONS FOR LAW ENFORCEMENT, PETERSEN'S , SWAT, POLICE, AMERICAN COP, LAW & ORDER, TACTICAL RESPONSE, LAW OFFICER MAGAZINE, GUNS AND AMMO and more. Dave has been an industry consultant to such companies as Ruger, Smith & Wesson, Don Hume Leathergoods, Alessi Holsters, Ghost, Inc., Ameriglo Sights, Law Enforcement Targets, Spyderco Knives, Templar Custom Arms, Fenix Lights and many others.  
FORMER LAW OFFICER
Dave spent five years as a full time use of force instructor, and another five years as the commander of a multi-jurisdictional drug task force, working major narcotics cases from Seattle to Miami. During his years on SWAT and while working narcotics, Dave was involved in a sizable number of forced entries including several hostage situations. He worked in all facets of law enforcement including corrections, communications, patrol, investigations, evidence collection, anti-fencing operations and undercover investigations. He honorably retired with the rank of Lieutenant.  
FAQs
What can I bring into the event?
Lunch. Please make sure you bring a lunch and any snacks you may need to sustain you through the day.
Gear Requirements: Firearm in good working order, 400 rounds of jacketed, factory ammo, sturdy strong side hip holster, 2 or more magazines with mag pouches
How can I contact the organizer with any questions?
Should you have any questions, please feel free to contact us at training@blackwingsc.com or give our Training Department a call at 740-363-7555.
What's the refund policy?
Due to travel arrangements of the instructor, we cannot offer refunds or store credit for any part of the tuition within 30 days of the course date.